Recently, the General Office of the Ministry of Industry and Information Technology (MIIT) issued a Notice on the List of Green Manufacturing in 2021. EVE's 18650 lithium-ion battery ICR18650/20P (used in power tools) and ICR18650/26V (used in electric two-wheelers) were successfully selected into the "2021 Green Design Product List".

"Green Design" refers to the systematic consideration of the impact of raw material acquisition, manufacturing, packaging and transportation, use and maintenance and recycling on the resource environment in the product design and development stage, and strive to minimize resource consumption in the entire life cycle of products, use as little or no raw materials containing harmful substances as possible to reduce the generation and discharge of pollutants, thereby achieving environmental protection.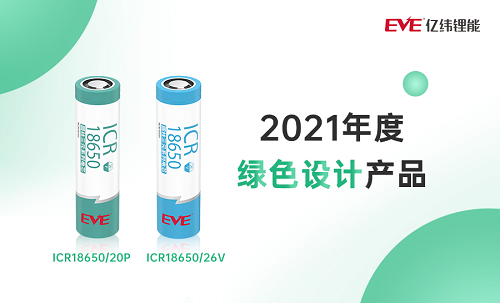 Being selected into the "2021 Green Design Product List" of the MIIT is another important achievement of EVE in terms of green manufacturing construction.
As a national high-tech enterprise, EVE always attaches importance to the development of green, low-carbon, energy saving and environmental protection. As early as 2019 and 2020, EVE and EVE Power have been awarded as "National Green Factory" respectively. EVE persists in optimizing the energy structure, reducing the use of fossil energy, actively using renewable energy, prioritizing the purchase of hydro, wind and photovoltaic power, replacing coal with natural gas, and constructing distributed photovoltaic power stations on factory roofs and parking lots.
Moreover, EVE continues to carry out cleaner production, improve production efficiency, reduce energy consumption in the production process, and promote green manufacturing in the supply chain. In 2021, the company achieved a renewable electricity share of 41%, reducing carbon emissions by about 80,000 tons.
In the future, EVE will continue to uphold the green manufacturing concept, produce high-quality lithium battery products and make outstanding contributions to the sustainable development of mankind.