On March 16, the annual selection results of the IoT Star Awards 2021 were officially announced. By virtue of power supply solutions for 16-year-life smart electricity meters, EVE won the Best Smart Energy Application Solution Award of IoT Star Awards 2021.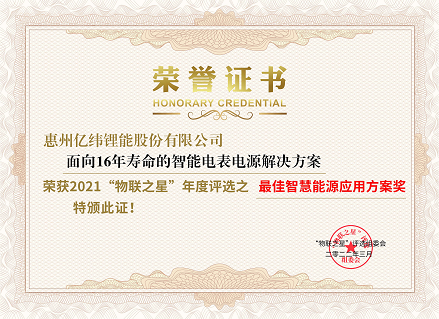 As a grand and influential public welfare selection event in IoT industry of China, IoT Star Awards is co-hosted by Ulink Media and member units of the IoT China. With more than 800 industry expert participated in the voting, the authority and objectivity of IoT Star Awards are highly praised and generally recognized by industry insiders .
EVE can provide comprehensive solutions for 16-year-life smart electricity meters, including long-life clock battery solution, long-life meter reading battery solution and long-life energy storage device power solution, to achieve ultra-wide temperature operation, stable high-voltage platform, and long-time discharge available.
As a domestic lithium battery core enterprise, EVE lithium primary battery has been widely used in the field of smart meters. Relying on high-quality products and one-stop overall solutions, EVE has been unanimously recognized by customers in the metering industry.
EVE is committed to being the most creative lithium battery leading company and make outstanding contributions to sustainable development. Under the background that China has clearly raised the goal of carbon peak and carbon neutrality to the strategic height of national development, EVE will continue to provide high-quality power solutions for the metering industry and contribute to the smart energy in the future.