From November 15th to 18th, the electronica 2022 was held in Munich, Germany. EVE showcased its core products and comprehensive solutions of consumer batteries and power energy storage batteries. During the exhibition, EVE held a business dinner, specially invited European and American regional agents and important customers for in-depth exchanges.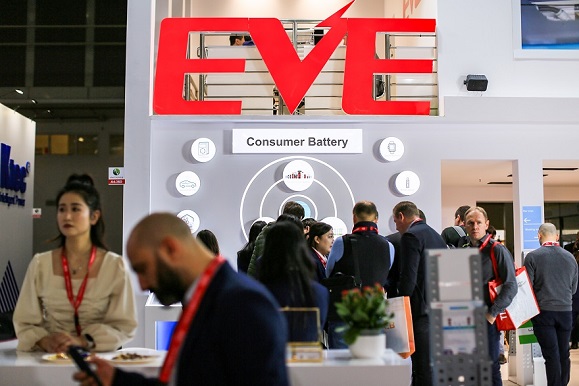 At the exhibition, EVE showcased the comprehensive solutions for consumer batteries and power energy storage batteries, covering ER batteries, CR batteries, SPC, lithium-ion batteries, cylindrical batteries, prismatic LFP batteries, prismatic NCM batteries, pouch NCM batteries, large cylindrical batteries, 12V/48V battery systems, etc. and provided solutions for enterprises in various industries, which attracted many customers and industry experts to visit and negotiate.
Consumer batteries have the advantages of long life, high reliability, high safety and low discharge rate. Relying on the high-quality products and one-stop overall solutions, EVE's consumer batteries are unanimously affirmed by various industry customers. Up to now, EVE had provided more than 1.7 billion smart meter batteries to the world, ranking first in sales and exports for six consecutive years in China. EVE's consumer lithium-ion products serve the world's first-tier brands while the cylindrical batteries serve well-known power tool brands and first-tier electric two-wheeler brands.
46-series large cylindrical batteries and systems were also exhibited. Through directional extreme speed pressure relief and independent pressure relief channel, the safety of the whole life cycle of the system is assured. And the system can be adapted to A/B/C class cars or SUVs to meet the cruising range needs of different scenarios, achieving small space, low weight and high endurance.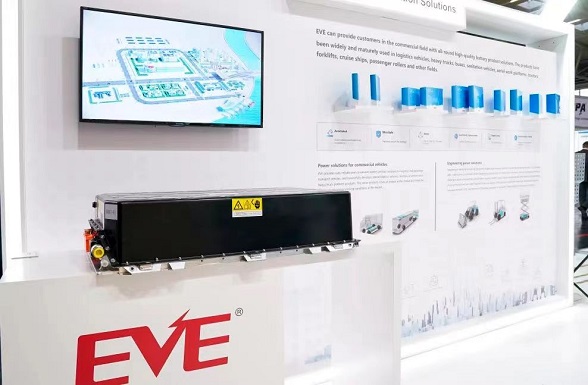 The LFP battery module, using a new generation of high-efficiency group technology, has the advantages of long life, high safety and good cycle performance, can be widely used in various commercial vehicles and energy storage scenarios.
For low-voltage application scenarios such as passenger cars and commercial vehicles, EVE has launched 12V/48V low-voltage products, which not only have excellent performance at low temperatures, but also meet the requirements of high-temperature use, and have been recognized by many well-known international and domestic automakers.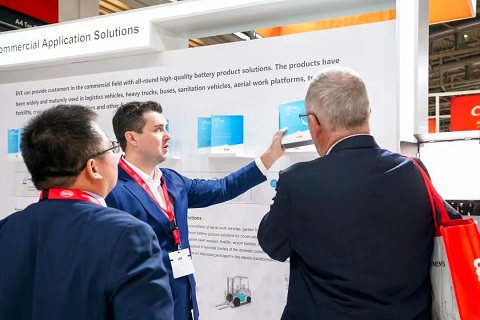 Experts from major automotive brands including BMW visited the booth and had close conversations with EVE's exhibitors.
In the future, EVE will continue to adhere to innovation-driven development, continue to provide high-quality power solutions for customers in various industries, promote energy transformation with more partners, and contribute to accelerating global carbon reduction.