On July 27, EVE Energy Co., Ltd. (hereinafter referred to as "EVE Energy") signed a Memorandum of Understanding (MOU) with Energy Absolute Public Co., Ltd. (hereinafter referred to as "Energy Absolute") in Huizhou.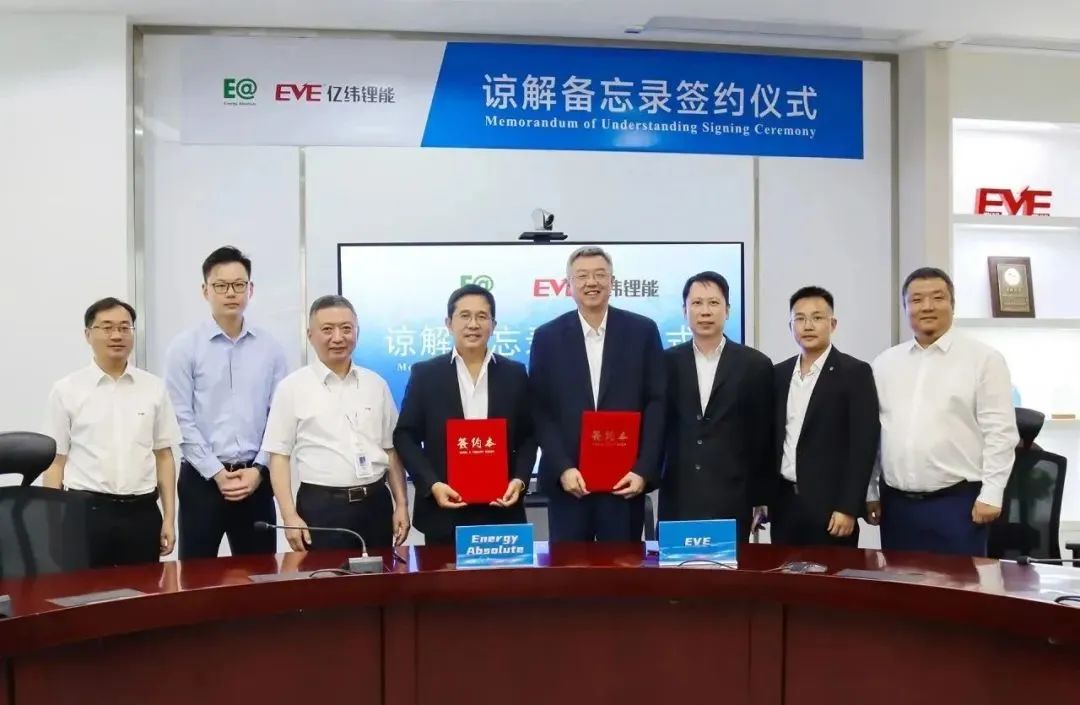 EVE Energy will jointly study with Energy Absolute about setting up an advanced manufacturing battery cell factory in Thailand with competitive cost of EV and ESS batteries. After co-study, Energy Absolute will propose Amita Technology (Thailand) Co., Ltd. (hereinafter referred to as"Amita Technology"), a subsidiary of Energy Absolute, and EVE Energy will jointly invest in the construction of a battery cells factory with 6 GWh capacity in the initial stage in Thailand.
Somphote Ahunai, CEO of Energy Absolute, and Dr. Liu Jincheng, Chairman of EVE Energy, signed as representatives of both parties.
Thanin Wanasuthanon, Head of Battery Business at Energy Absolute; Dennis He, CEO of Atess Power Technology Co., Ltd, as well as EVE Energy's senior company executives such as Chen Zhuoying, Vice President of Legal Center, Zhu Yanchun, Senior Vice President of EVE Power's Domestic Marketing Center, and Dr. Anson Chen, General Manager of EVE Power's International Business Unit, were present to witness the signing ceremony.
EVE Energy and Energy Absolute uphold the principle of "equality, mutual benefits, and common development" together. EVE Energy and Amita Technology will further integrate their resources, jointly planning to build a 6GWh cell and pack factory, and specialize in the design, development, manufacturing, and sales of power storage battery cells and pack products, as well as actively develop the business of electric vehicle and energy storage batteries in Thailand and Southeast Asian markets.
EVE Energy adheres to the globalization development strategy. Based on the Chinese market, it extends its layout overseas to Hungary, Malaysia, and other countries and regions, spreading the reputation of Chinese batteries far and wide.
The signing of MOU will further promote EVE Energy's globalization process. EVE Energy will fully utilize its manufacturing advantages and operational experience to build a digital and intelligent factory, and assist transform and upgrade Thailand's automotive industry with world-class products and technologies, contributing to building a beautiful planet and a community with shared future for mankind.
About Energy Absolute
Energy Absolute is Thailand's largest renewable energy company focusing on electric vehicles, electric motorcycles, and electric boats area. With the goal of reducing greenhouse gas emissions from conventional transportation, Energy Absolute provides comprehensive solutions for renewable energy and electric transportation in Thailand and other countries in Southeast Asia.