Recently, Jinquan New Energy Material Co., Ltd., a subsidiary of EVE Energy, received the Certificate of New High-Tech Enterprise jointly issued by Science and Technology Department, Department of Finance, State Administration of Taxation and Local Taxation Bureau in Hubei. Besides, Guangdong EVCENS New Energy System Co. Ltd., another subsidiary of EVE Energy, was also awarded the Certificate of New High-Tech Enterprise, and included in the list titled "The First Group of New High-Tech Enterprise in Guangdong in 2016".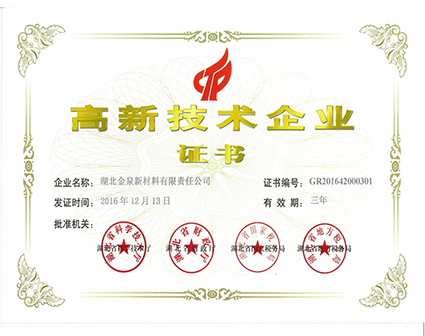 Jinquan has been focusing on corporate development driven by technological innovation. Having been technically led by its parent company (EVE Energy) based on 17 years experience of EVE Energy in the New Energy Industry. The company now establishes a long-term cooperation with many research institutes to integrate production, education and scientific research. EVCENS shows great advantages in the integration of power system of extended-range electric bus and the combination of lithium battery system. Moreover, the company is also boosting the application and commercialization of battery and system technology of electric vehicles in Guangdong. 
       Jinquan and EVCENS, after being certified as New High-Tech Enterprise, will enjoy tax cuts for three consecutive years as stipulated by Chinese tax incentives for high-tech enterprises. More specifically, the two companies will pay their corporate income tax at a preferential tax rate of 15% in the following three years. 
       The certification of new high-tech enterprise will have a positive impact on business performance of EVE Energy, Jinquan and EVCENS in 2016 and the following years.