On June 17th, EVE Power was certified with ISO 26262: 2018 (ASIL D level) issued by TÜV NORD, which indicates that EVE Power has established an automotive-grade and internationally leading battery system product development process in accordance with the highest level of ISO 26262: 2018 Functional Safety Process requirements.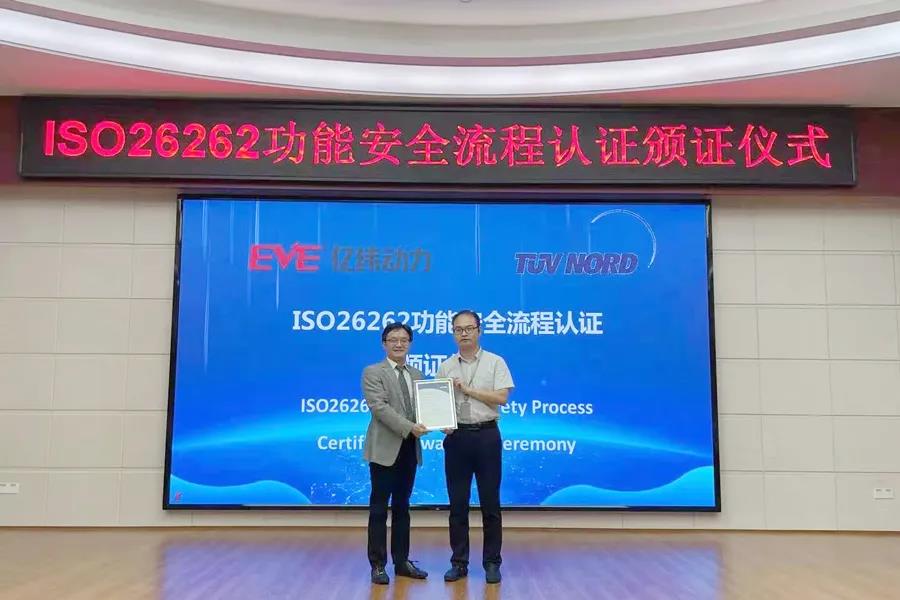 ISO 26262 is a globally recognized automotive functional safety standard, one of the entry thresholds in the automotive industry. It defines functional safety of a product throughout its lifecycle, including management of functional safety, concept phase development, product development at system, hardware and software level, supporting processes, safety analyses, as well as product launch. The standard aims to achieve systematic design throughout the product lifecycle through a comprehensive development process, and to control the risk of system failure due to electrical and electronic failure to a reasonable level. The 2018 edition of the standard is the latest version.
ASIL (Automotive Safety Integration Level) is a classification system based on ISO 26262 standards with four levels: A, B, C, and D. The higher the level, the lower the risk of system failure and the stricter the development process. The ASIL D level that EVE Power obtained is the highest safety level in this certification system.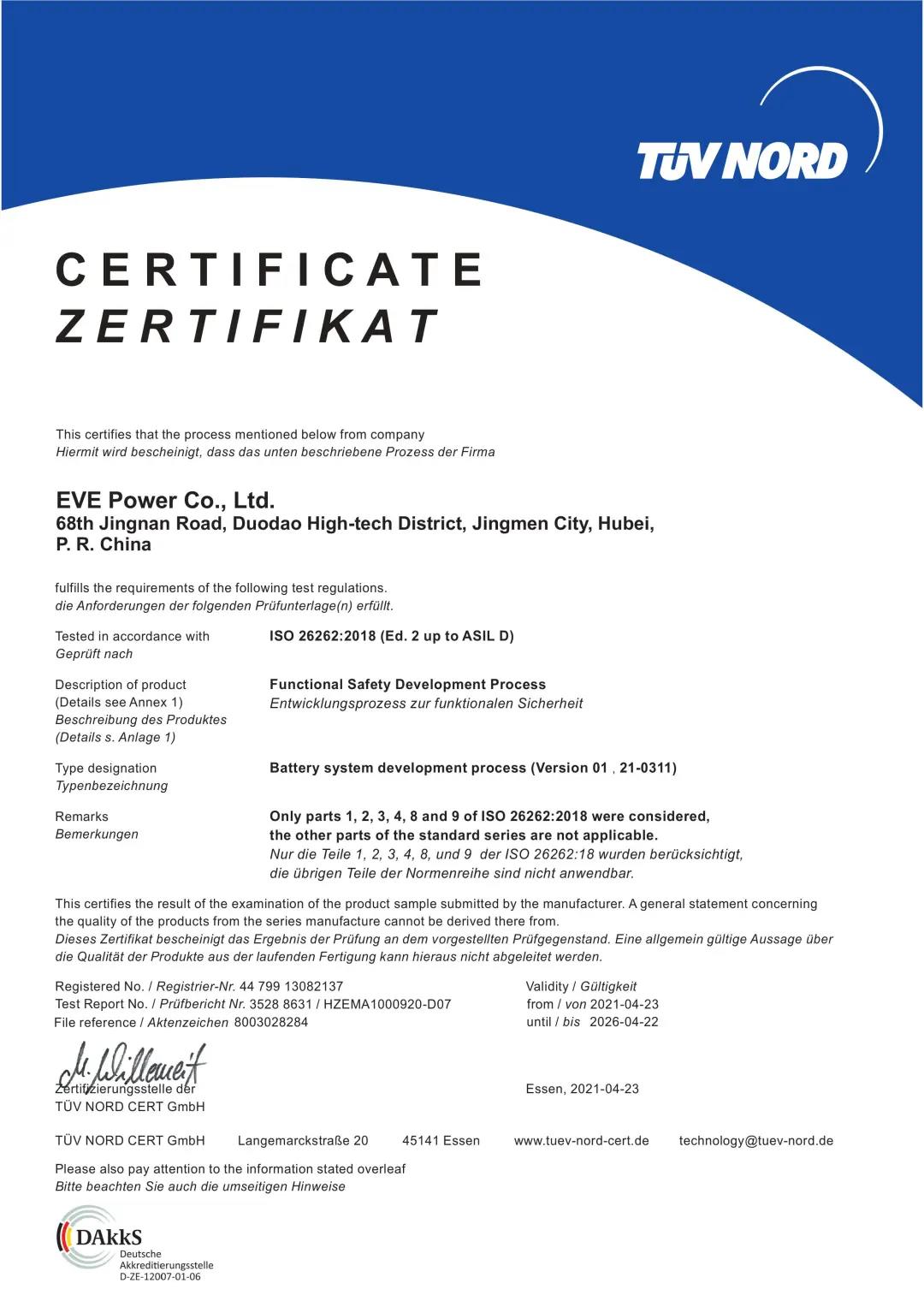 Adhering to the principle of "safety and reliability are the natural attributes of lithium batteries", EVE Power always takes an extremely serious attitude and strives to achieve the highest standards of safety and reliability of each product. Under the guidance of automotive functional safety expert team from TÜV NORD, EVE Power has built a development process that meets the functional safety standards, and has output 202 process documents in 4 categories, including checklists, processes, document templates, and guidelines, comprehensively establishing the functional safety process with ASIL D Level and obtained the ISO 26262 certificate in the end. The acquisition of this certificate is a recognition of EVE Power's adherence to high standards in the field of product quality and safety.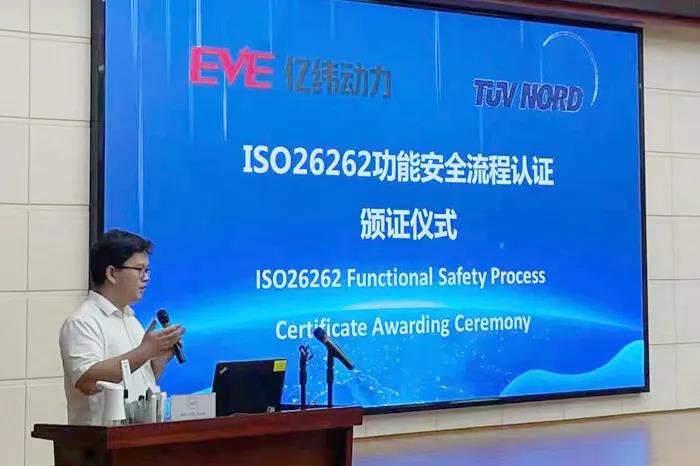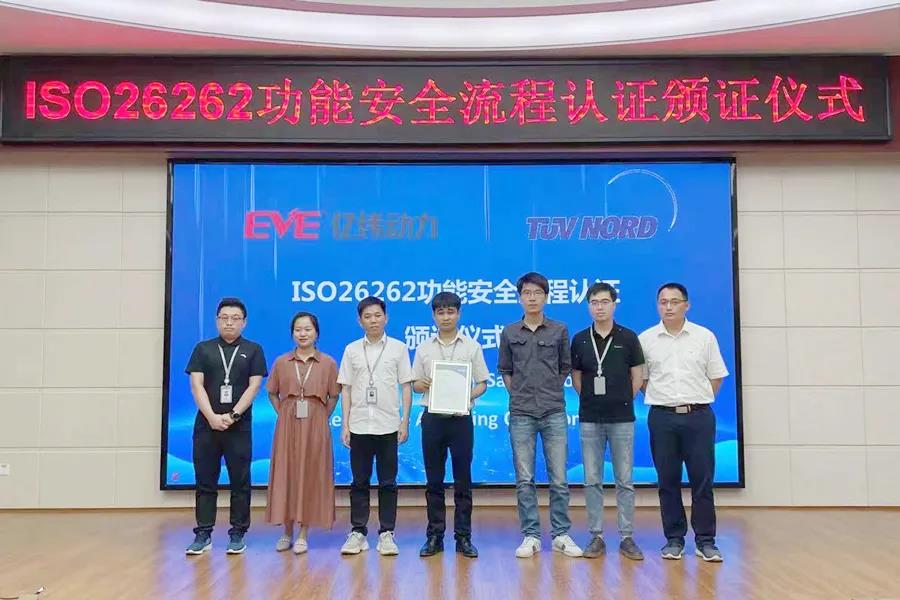 In the future, EVE Power will continue to strengthen the automotive-grade product quality and safety system, to achieve continuous improvement of product functional safety and quality from the aspects of team capabilities, process optimization and efficiency improvement.