On November 4, EVE and Municipal People's Government of Jingmen City held a signing ceremony of strategic investment agreement for an annual output of 152.61GWh power and energy storage battery project in Wuhan city. Leading companies in the lithium battery subdivisions such as GEM, ranks first in the field of battery ternary cathode material precursor in China; Energy New Materials, ranks first in the field of battery diaphragm in the world; KDL, ranks first in the battery structural parts field in China; and Capchem, ranks first in in the electrolyte field in China, jointly signed the project of power and energy storage battery "Strategic Investment Framework Agreement" with Jingmen Municipal People's Government.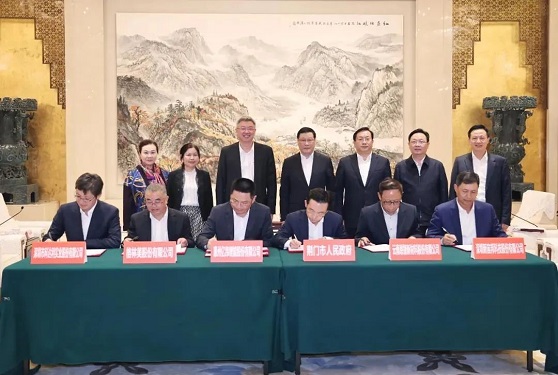 Leaders from Hubei Province and Jingmen City, along with representatives of EVE, Energy New Materials, KDL and Capchem attended the signing ceremony.
With the implementation of China's "carbon peak and carbon neutrality" strategy and the explosive development of the new energy automobile industry, the market demand for lithium batteries has risen sharply, and leading companies in the global lithium battery industry have begun large-scale production capacity deployment. EVE's capital increase and production expansion in Jingmen, on the one hand, can rapidly expand production capacity and respond to market demand. On the other hand, signing strategic cooperation agreements with leading companies in various segments of the industrial chain can effectively lock in the supply of raw materials, ensure the safety and cost competitiveness of the supply chain, promote the harmonious development of the industrial chain, and create a solid industrial barrier.
Hubei Satellite TV reported the discussion between Wang Zhonglin, Ying Yong, and Dr. Liu Jincheng.
Adhering to the high-quality development strategy, EVE continues to focus on lithium battery technology and products. With its corporate vision of "To be the most creative Lithium battery company, and make outstanding contributions to sustainable development.", and the mission of "dependable and reliable, harmonious development", EVE is striving to enter the "first camp" of the global lithium battery industry.
Video source: Hubei Satellite TV (content is slightly deleted). If there's any infringement, please contact to delete.