Recently, the Ministry of Industry and Information Technology of China announced the list of "Industrial Products Green Design Demonstration Enterprises (Fifth Batch)". As the only battery production enterprise selected in this batch in Guangdong Province, EVE has been recognized as an industrial product green design demonstration enterprise in the segmented industries (products) of power and energy storage batteries.
This successful selection indicates that EVE's industry-leading strength in green design concepts, technological innovation capabilities, green product manufacturing levels, and application promotion has been highly recognized.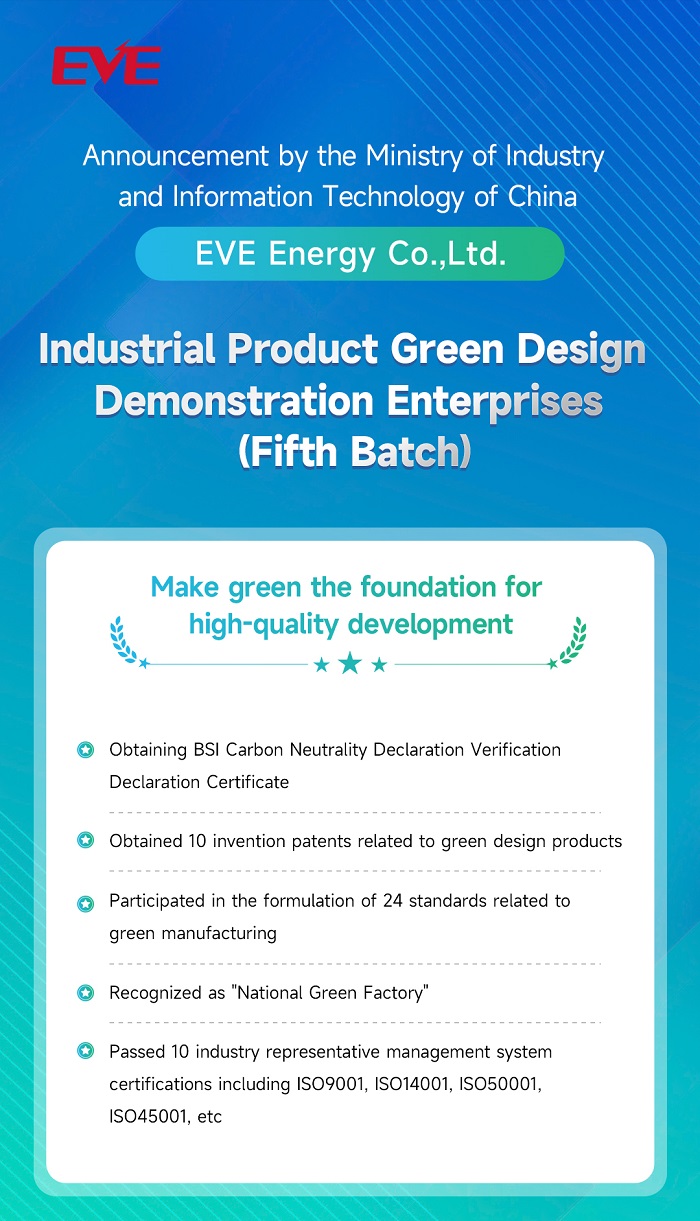 Implementing the concept of green design
Full life cycle carbon reduction and emission reduction

As a national green factory, EVE always attaches great importance to the development of green, low-carbon, energy-saving and environmental protection, actively responds to the government's call for energy conservation and emission reduction, closely adheres to the energy policy of "providing green products to society with better energy utilization efficiency" and the environmental policy of "compliance with the law, continuous improvement, pollution prevention, energy conservation and emission reduction", and attaches great importance to managing energy consumption, pollutants and carbon dioxide emissions product cascade utilization and recycling and natural resource consumption in business activities.
EVE implements the concept of green product design, attaches great importance to product research and development, and strives to consider the impact on resources and environment caused by the use of raw and auxiliary materials, production, sales, use, and recycling and disposal in the product development stage. Through a series of measures such as product raw material selection, clean production process technological upgrading, resource recycling and harmless disposal, etc, reduce resource consumption and waste generation in the production process, promote green product development and technological progress.
Relying on an excellent research and development platform and an international and systematic strong research and development team, EVE actively collaborates with strategic partners to jointly conquer key and cutting-edge technologies of lithium batteries. In the future, EVE will continue to drive development through technological innovation, coordinate with the industrial and supply chains for green upgrading, promote pollution reduction and carbon reduction, and enhance efficiency through practical actions to help achieve carbon peak and carbon neutrality goals, making outstanding contributions to the country's promotion of green, low-carbon and sustainable industrial development!